Uni-Flex Cobot Your ideal partner!
The most cost-effective labourer
Are you sick and tired to burden your employees with repetitive tasks? Our Uni-Flex cobot can do these tasks for you while your workers can do more proactive jobs.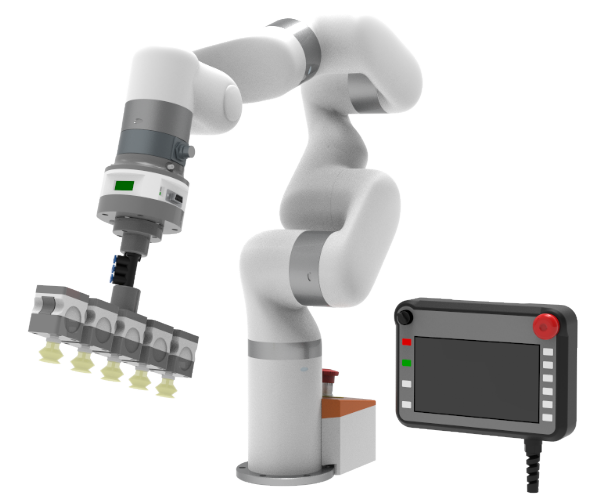 The smart and easy-to-use software of the Uni-Flex cobot makes it a lot easier for an operator to program and correct the cobot. The Uni-Flex cobot also features a zero gravity learning mode which makes it possible to freely move the robot arm without resistance. This zero gravity learning mode makes it easy to learn the Uni-Flex cobot a new trajectory.

The Uni-Flex cobot is build in a very modular way which makes it easy to customize existing and design new tools.
It has a payload of 3.5 or 5 kg depending on the model. The cobot complies with the cleanroom 5 specification. All models have an axi radius of 700 mm and are made from a high-quality, robust carbon-fiber structure material.

The Uni-Flex cobot features easy to mount and replaceable end-effectors. A wide variety of end effectors is already available. It is also possible to develop purpose-built, easy to integrate end-effectors.

The Uni-Flex cobot is equipped with collision detection, so that safe operation in the vicinity of people can be achieved. Multiple emergency stops are provided so that the cobot's operation can be interrupted at any time.

T
hanks to the user-friendly drag and drop programming, the cobot can be programmed quickly and efficiently to handle a wide variety of tasks. The Uni-Flex cobot can also be used in a zero gravity learning mode to quickly learn new tasks with a minimum of programming effort. New tasks can easily be saved in a file for later use.

The software is easy to install on the 3 most popular operating systems (Windows, macOS and Linux) with a user-friendly installation program.
The installation of the Uni-Flex cobot is self-explanatory without having to enter difficult installation parameters. The cobot is equipped with foolproof connectors, no further manual wiring is required.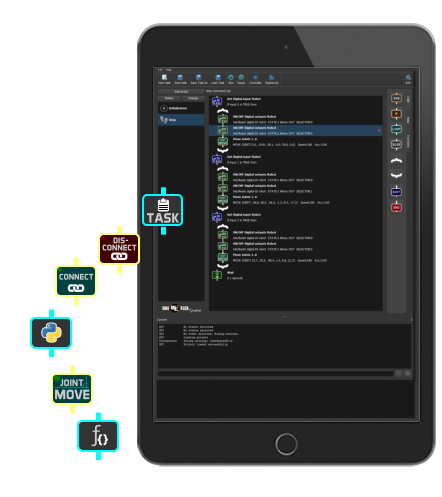 You can easily teach the cobot a path to follow, it will repeat this movement on request, no further programming is required. With the easy to use drag and drop programming mode you can learn it
complex movements in a minimum of time.